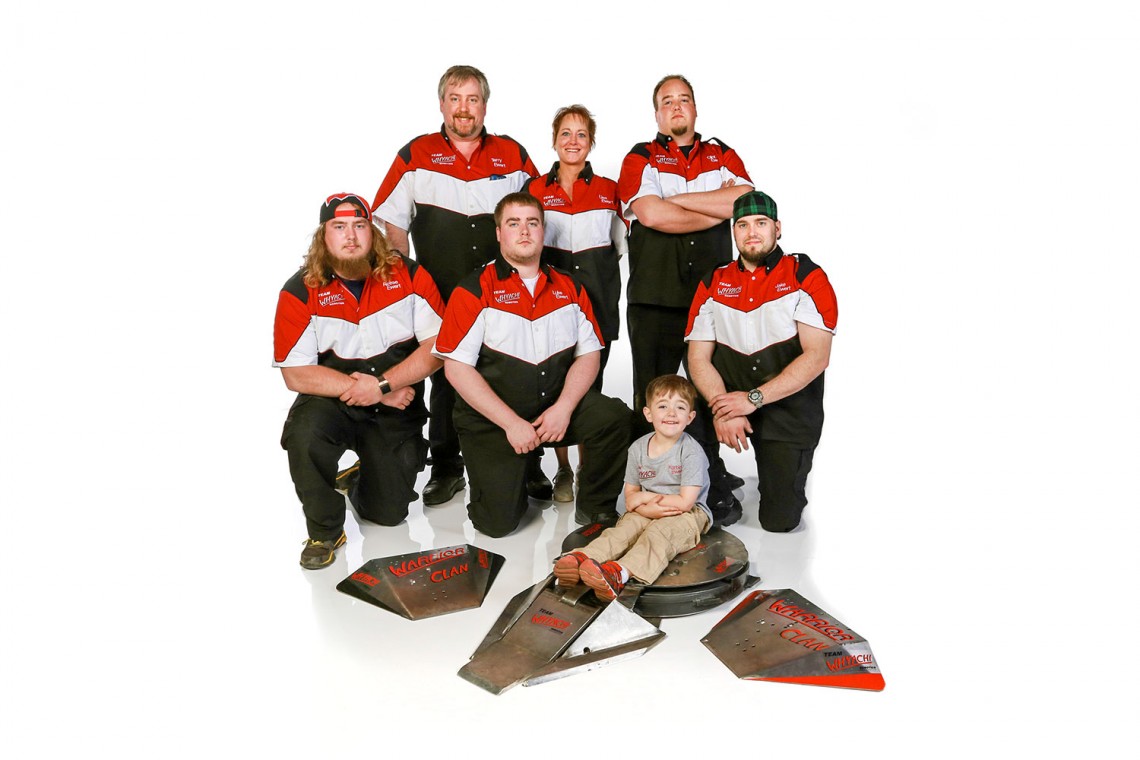 Robot:
Warrior Clan
---
Type:
Spinner with Lifting Tail and Flame Throwing Distraction Robots
---
Team:
Team Whyachi
Terry Ewert, Lisa Ewert, Jake Ewert, Clint Ewert, Luke Ewert, Reese Ewert, Korbin Ewert, Tyler Paul, Tommy Untiedt
---
Hometown:
Abbotsford, WI
---
Sponsors:
---
---
Builder:
Terry Ewert
---
---
Years competing:
15 years
---
Favorite tool:
Water Jet
---
Favorite robot:
C3PO
---
Interesting fact:
I was raised on a small dairy farm near Colby, WI (colby cheese).  We did everything on the farm "old school", like 40 years behind all the rest.  That's where I started the thinking, there has to be a better way and ended up an engineer.
---
Stat history
| Stats | Career | Season 2 | Season 1 |
| --- | --- | --- | --- |
| Total matches | 4 | 2 | 2 |
| Win percentage | 50% | 50% | 50% |
| Total wins | 2 | 1 | 1 |
| Losses | 2 | 1 | 1 |
| Knockouts | 1 | 0 | 1 |
| KO percentage | 25% | 0% | 50% |
| Average knockout time | 126 s | | 126 s |
| Knockouts against | 2 | 1 | 1 |
| KO against percentage | 50% | 50% | 50% |
| Judges decision wins | 0 | 1 | 0 |
Match history
| Season | Round | Opponent | Results |
| --- | --- | --- | --- |
| Season 2 | Qualifier | Splatter | Won by JD (3-0) |
| Season 2 | Round of 32 | HyperShock | Lost by KO (2:12) |
| Season 1 | Qualifier | Nightmare | Won by KO (2:06) |
| Season 1 | Round of 16 | Ghost Raptor | Lost by KO (3:00) |